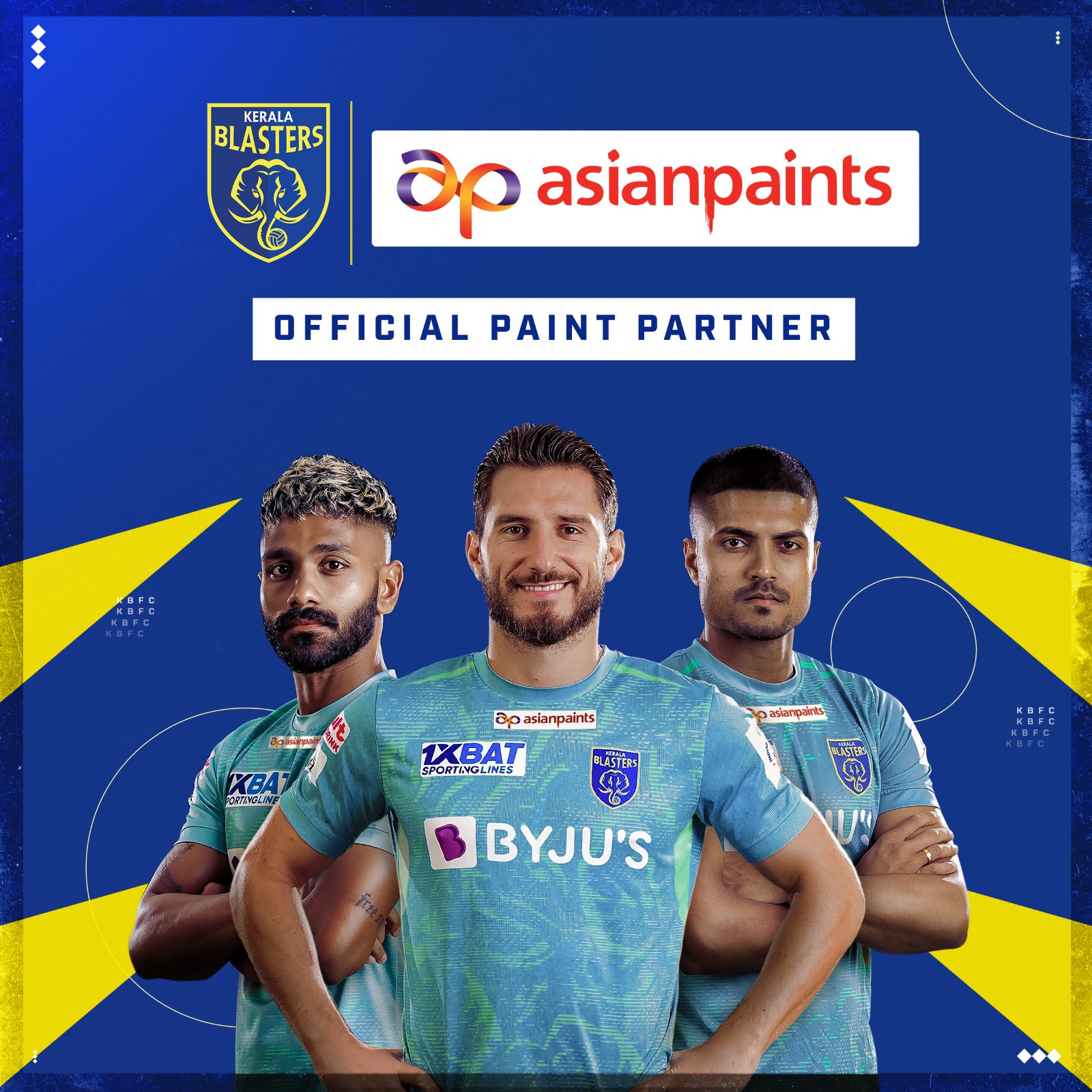 Asian Paints join hands with Kerala Blasters FC as Official Paint Partner
Kochi, August 24, 2023: Kerala Blasters Football Club announces its partnership with Asian Paints, India's leading paint and decor company, as the Official Paint Partner for the upcoming Hero Indian Super League 2023/2024. With this partnership, the Asian Paints logo will be displayed on the undercollar of the team's jersey. This exciting collaboration marks a new chapter for both organizations and reflects a shared commitment to excellence, innovation, and community engagement.
Commenting on the association, Amit Syngle, MD & CEO, Asian Paints Limited, said 'We're thrilled to be associated with Kerala Blasters FC for the upcoming Indian Super League Season. This marks our second partnership with the team, and we take great pride in collaborating with such a formidable club in the tournament. At Asian Paints, we believe in fostering and supporting the sporting culture in India, and football holds a special place in this endeavour. The Indian Super League has played a key role in elevating the popularity of football across the nation, and we eagerly look forward to the forthcoming season. Our heartiest wishes to Kerala Blasters FC for this upcoming season!'
Commenting on the association, Nikhil Bhardwaj, Director, Kerala Blasters Football Club, said, "It is our pleasure to partner with a great brand like Asian Paints. We thank them for placing their trust in Kerala Blasters and thoroughly look forward to having a successful & colourful partnership together."
The collaboration between Kerala Blasters FC and Asian Paints goes beyond the realm of sports. It demonstrates a commitment to creating a vibrant sporting culture and building deeper connections with communities in India.
About Asian Paints Limited:
Since its foundation in 1942, Asian Paints has come a long way to become India's leading and Asia's second largest paint company, with a consolidated turnover of ₹ 34,489 crores (₹ 345 billion). Asian Paints operates in 15 countries and has 27 paint manufacturing facilities in the world, servicing consumers in over 60 countries. Asian Paints has always been a leader in the paint industry, innovating and introducing new concepts in India like Colour Ideas, Safe Painting Service, Colour Next and Asian Paints Beautiful Homes Stores. Asian Paints manufactures a wide range of paints for Decorative and Industrial use for interior and exterior walls. Their portfolio also includes SmartCare range for waterproofing, WoodTech products for wood finishes and Adhesives range for all surfaces. The company is also present in the "Home Improvement and Decor segment" and offers bath and kitchen products. The company also introduced lighting, furnishings, and furniture in its portfolio and offers a range of safe and supervised painting and interior design services.