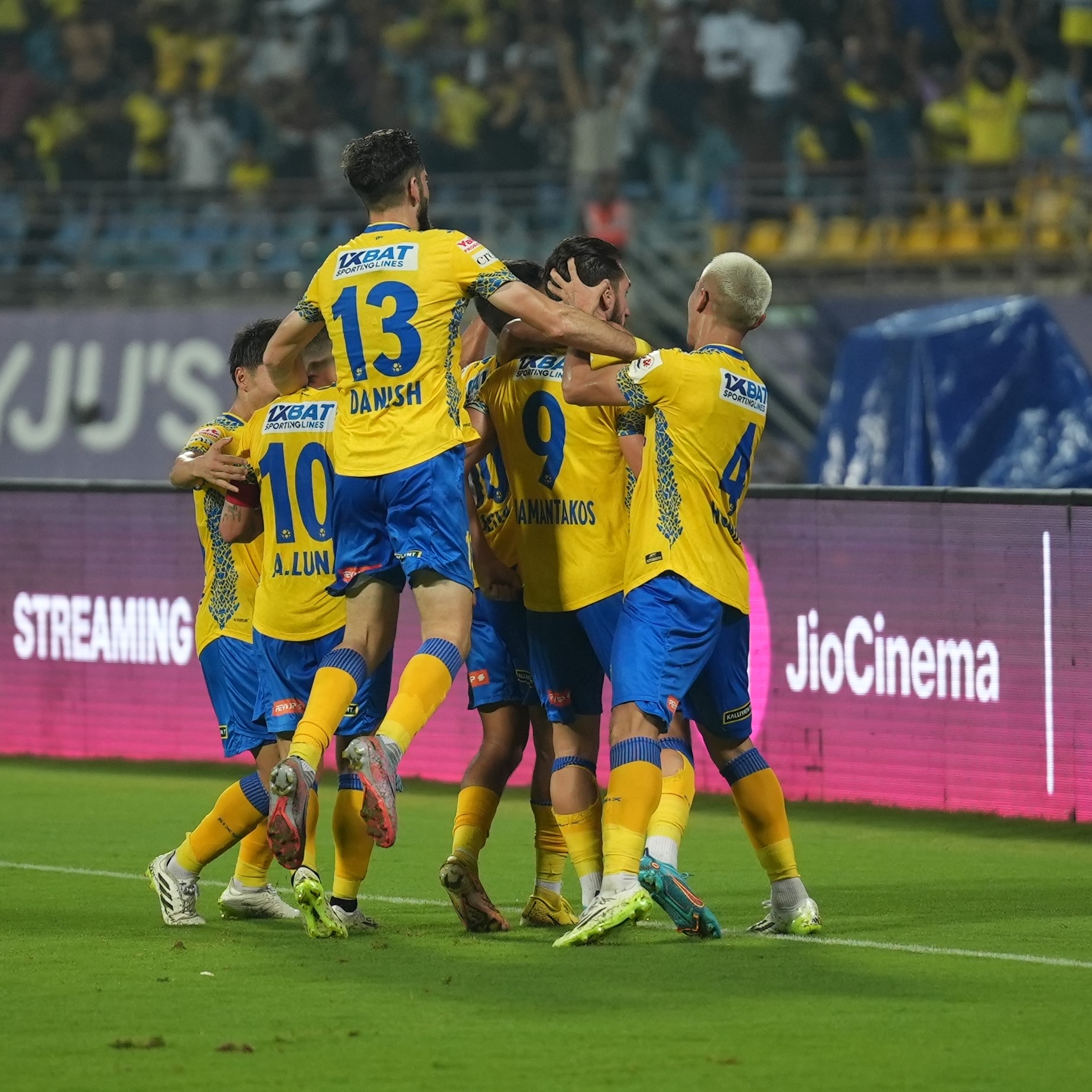 Odisha FC 1 – 2 Kerala Blasters FC | Kerala Blasters comeback from behind to register memorable victory
Kochi : Kerala Blasters made a gritty comeback in the 2nd half of their 5th ISL encounter for the season against a very well marshalled Odisha FC side to secure all 3 points, taking the team to second on the League table with 10 points.
Odisha FC' Sergio Lobera and Kerala Blasters' returning manager Ivan Vukomanović both employed a 4-4-2 formation but it was Odisha FC who got off the blocks quicker, they built continuous pressure which led to Brazilian striker Diego Maurício driving the Juggernauts into an early lead.
The home team created chances of their own, but Kwame Peprah and Rahul KP's attacks were nullified by a resolute Odisha FC defense, who constantly threw their bodies into the line of multiple shots to deny the Blasters parity in the game.
In the 21st minute of the match, Naocha Singh conceded a penalty due to a handball incident in his box, however young goalkeeper Sachin Suresh denied the penalty from Diego Maurício and a following rebound shot to disallow Odisha FC gaining further footing in the game.
From there on there was a visible shift in momentum, with the vocal home crowd getting involved in the game, which in return opened the game further for KBFC to build up a counter-attack, however the score was still 1-0 in favour of the visitors at half-time.
Soon into the half-time, coach Ivan Vukomanovic introduced midfielder Freddy Lallawmawma and striker Dimitrios Diamantakos into the game and the Greek international scored the equaliser off a ball into the box from Daisuke Sakai in 66th minute of the game, visibly rattling the vistors which led to many errors on the part of Odisha FC earning them as many five yellow cards for the game.
Blasters didn't relinquish this advantage and constantly peppered the Odisha FC defense in search of that winning goal, which eventually came from an Adrian Luna attack in the 84th minute when he curled a ball into the top left corner of Odisha FC' goal, a shot that sailed over the defense and keeper's reach making all of the home crowd erupt in joy.
It was a massive comeback to overcome the early jitters and rally around in the second half of the game to mount the comeback that was displayed by the Blasters, Ivan Vukomanović's tactical imprints were also clearly visible in the way he maneuvered his squad through timely substitutionsin the game's second half.
Kerala Blasters next will play their second away game of this ISL season in Kolkata against East Bengal on 4th November, with victories such as this one providing the necessary belief in the whole squad to face the challenges ahead.
Substitutions
Freddy Lallawmawma [IN] – [OUT] Vibin Mohanan 58′
Dimitrios Diamantakos [IN] – [OUT] Rahul KP 58′
Mohammed Aimen [IN] – [OUT] Daisuke Sakai 70′
Ishan Pandita [IN] – [OUT] Kwame Peprah 81′
Mohammed Azhar [IN] – [OUT] Freddy Lallawmawma 81′