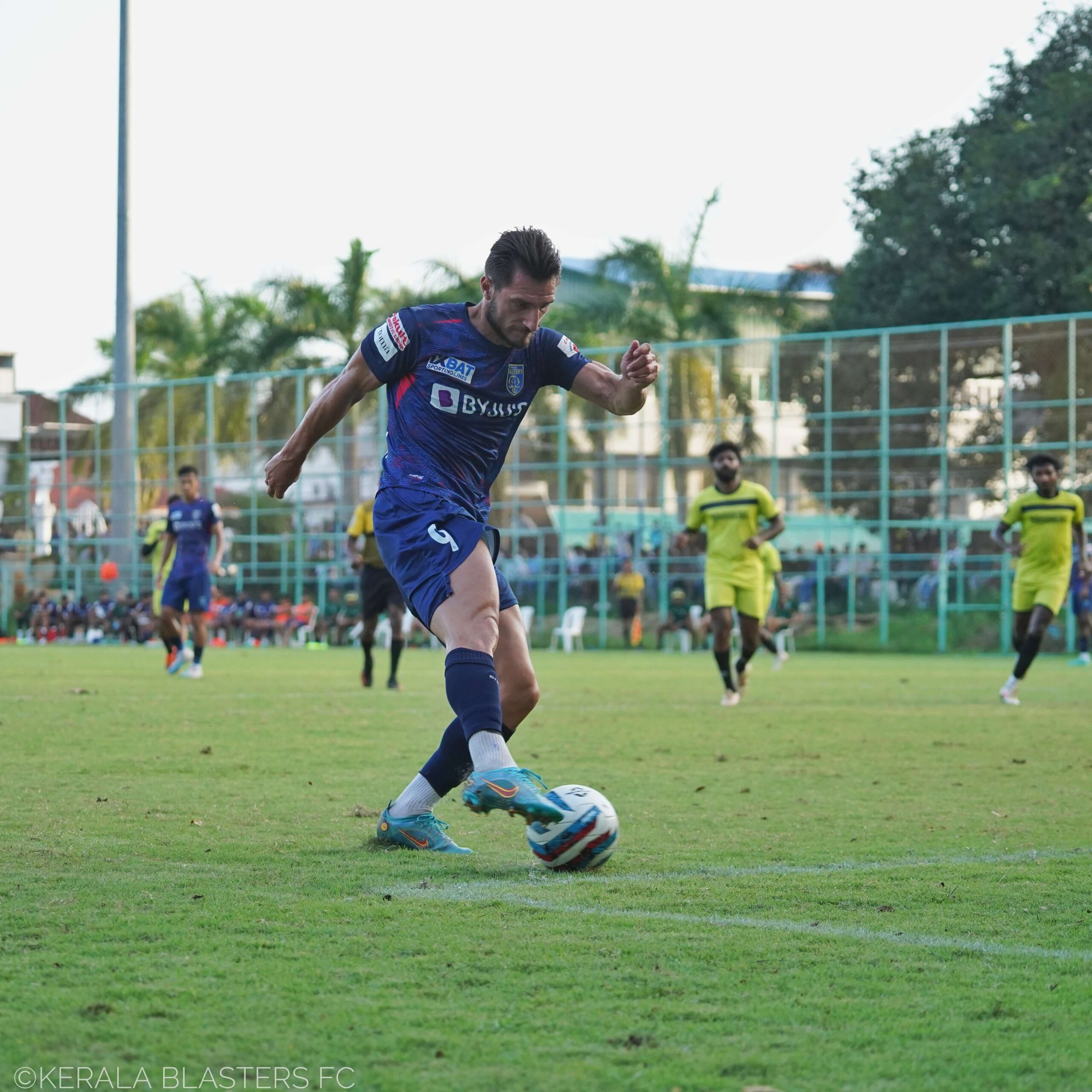 Kerala Blasters FC vs. Maharaja's College; Preseason Friendly: Final Score 8 – 0
Kerala Blasters FC gained precious preseason game time when they faced Maharaja's College football team in a friendly encounter at Ernakulam's Panampally Nagar Football Ground this evening.
Kerala Blasters entered the game with a 4-4-2 formation and concentrated on playing a pressing game, which yielded results in the form of regular goals through the entire 90 minutes of the match.
The first half ended with a 4-0 lead, with Bidyashagar and Bijoy contributing two goals each. Hormipam Ruivah, who wore the captain's armband, marshaled the backline well to ensure a clinical first half.
The second half saw several changes in personnel but the Blasters attacking onslaught continued. Rahul found the back of the net twice along with a goal each for Diamantakos and Luna, stretching the final score to an impressive 8-0 in favor of the Blasters.
As impressive as the attacking line-up was today, the defensive unit, comprising the likes of Hormipam, Prabir Das, Lešković, and Bijoy, was also equally clinical in dousing any possible attacks from building.
New signing Pritam Kotal also got his first look as a Blasters player in what was a commanding second-half performance from the veteran defender.
The preseason friendly was an important fixture in ensuring that the entire squad got some match minutes under their belts before the team faces more challenging fixtures in the Durand Cup lined up next month.
LINEUPS
First Half
Sachin, Naocha, Hormipam, Bijoy, Prabir, Yoihemba, Azhar ( 23′ Roshan), Bryce, Justine, Bidyashagar, Ajsal ( 23′ Nihal )
Second half
Karanjit, Saurav, Pritam, Lešković, Saheef, Jeakson, Danish, Aimen, Rahul, Luna, Diamantakos.