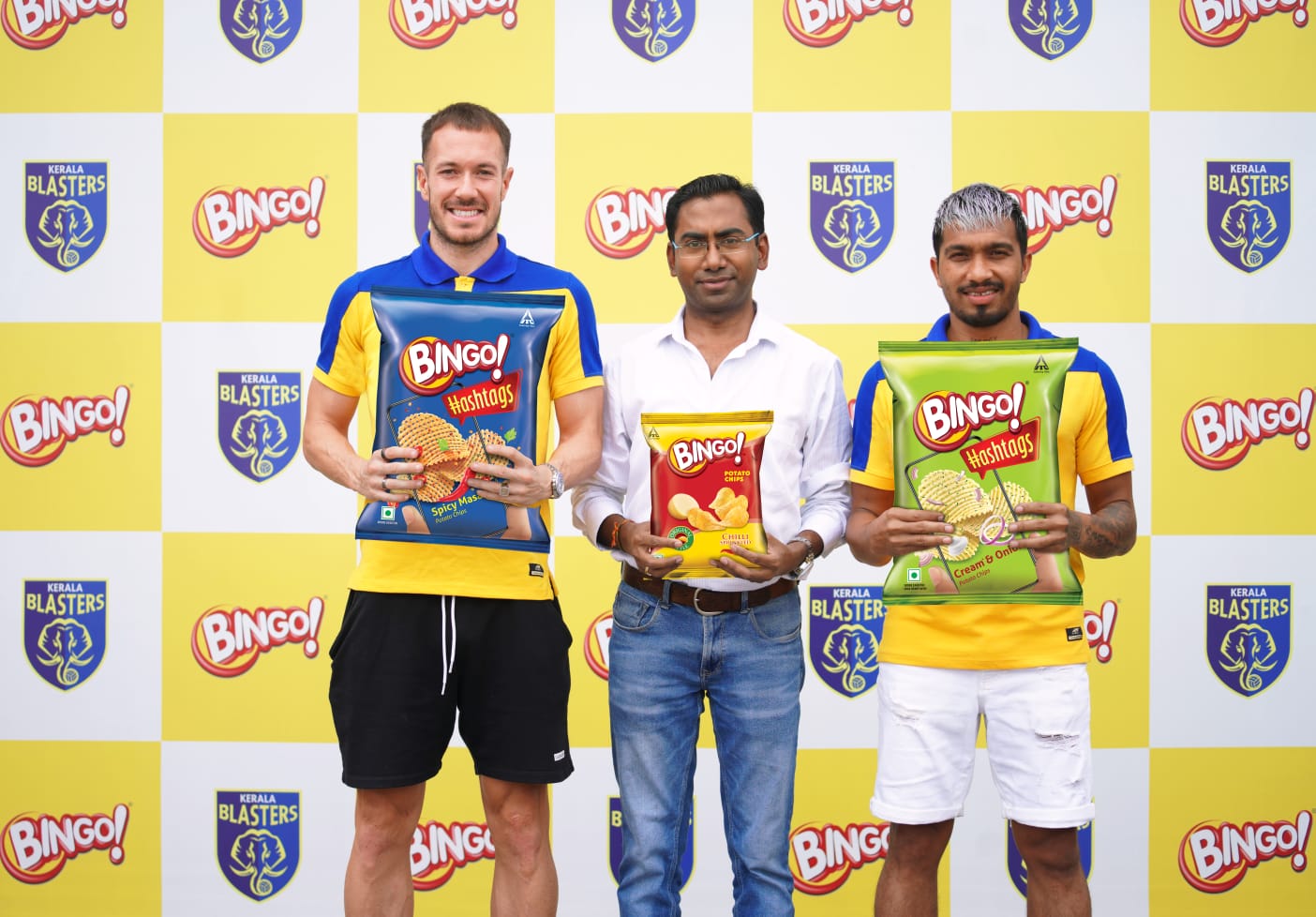 ITC Ltd.'s Bingo! Announces Collaboration with KBFC as Official Snacking Partner
The snacking brand Bingo! from ITC Ltd., one of India's leading FMCG conglomerates, announced a collaboration with Kerala Blasters Football Club KBFC – one of the leading teams of Indian Super League (ISL). Bingo! has been designated the Official Snacking Partner for KBFC in the 9th Season of ISL, scheduled to begin on October 7, 2022.
As we all know, snacking enhances mundane moments. Bingo! creates more exciting moments as football fanatics dive deep into the game while enjoying their favourite snacks. Bingo! introduces a fresh collaboration that amusingly and imaginatively depicts the snack's connection to game time. Bingo! has traditionally been associated with sports, and, this ISL season, is running its famous signature campaign "Match Start Bingo! Start" where viewers put aside their schedules to sit back, relax and cheer for their teams. Through its brand campaign, Bingo! has positioned its range of products as the perfect way to enjoy oneself while watching a favourite game. Bingo! has been present as an official snacking partner during major sporting events and has been a natural fit with sports, creating a delectable sporting experience.
Speaking on the occasion, ITC Ltd.'s Head of Marketing -Snacks, Noodles, Pasta, Mr. Aishwarya Pratap Singh said, "We are thrilled with our partnership with Kerala Blasters FC – one of India's foremost football teams. Bingo! owns the platform of youthful and innovative snack offerings, and sports have always been front and centre of our activity since sporting fans enjoy snacking and munching almost as much as they love watching their favorite teams in action. KBFC has a very strong track record and a large fan base and together we hope to deliver exciting match experience to the fans".
Speaking about the partnership, Kerala Blasters FC's Director, Mr. Nikhil Bharadwaj said," We're pleased to have Bingo! on board as our official partner. They have been at the forefront of the snacking industry for as long as I can remember. We thank them for placing their trust in Kerala Blasters and thoroughly look forward to a successful partnership together".
Millions of Indians pick Bingo! as their go-to snack, which enhances their experience while they are hooked to their screens in the comfort of their homes. Bingo! provides a distinctive selection of snacks in tantalizing flavours and shapes, including Original Style Potato Chips, Mad Angles and Tedhe Medhe. Bingo! has been in business for 15 years and is renowned for its distinctive, clutter-busting, youth-focused products. It has consistently recognized the significance of snacks in activities and sports.